About six months ago, Alicia Shambo, who lives in Franconia, New Hampshire, was diagnosed with Charcot-Marie-Tooth disease (CMT). CMT is a progressive nerve disease named after the three doctors who discovered it in 1886. It generally causes numbness and muscle weakness in the arms and legs.
Back in November 2019, Alicia noticed that her left foot kept dropping and she would sometimes have to pick it up to make it move. A series of tests confirmed that she had CMT, which has progressed to the point that she needs to wear leg braces to get around and is limited in what she can do with her limbs.
Life was already becoming more and more challenging and then COVID-19 struck.
Because of my health issues, I was very sick for a month and and so I'm very susceptible to infection. I can't be around anybody who is sick. I was in the medical field when I was in the Navy so I know what I need to do and not do. Everybody's been very, very cautious about wearing their masks and social distancing, but COVID has definitely affected things and my kids realize that I can't be exposed to anything.

Alicia Shambo
Alicia has three adult children. They all live about three hours away and any in-person visits could put her at risk. But COVID or no COVID it quickly became obvious that Alicia needed help with errands and chores around the house. A friend told her about a service that another friend's son had just launched. It's called My Grandson and is a personal concierge service. The brainchild of recent college graduate Ned Roosevelt from Sugar Hill, NH.
Obviously, everyone has been affected by COVID, but looking at kids my age, recent college graduates or college age students, a lot of us have had job offers and internship offers rescinded due to the pandemic. We graduated into a job market that none of us were expecting, so during this summer period a lot of us needed something to do. We identified that elderly people were among the most vulnerable to COVID and we thought about ways we could utilize our skills and our passions to help them.

Ned Roosevelit, My Grandson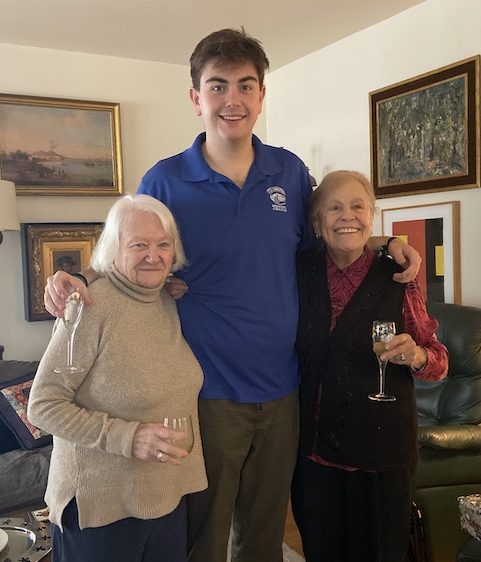 You might say Ned's grandmothers Eleanor Lovett and Mary Jane Roosevelt were muses for their grandson, as well as the inspiration for the name he chose for his new business.
I could sense how skittish they were to go out to the grocery store and get items for themselves, how nervous they were about the pandemic. The thing that really killed me was to see their social circle just shrinking so much and even disappearing. And I can see that they yearned for social contact — safe, socially distanced social contact — but they needed someone to be there for them. I think that that a lot of people their age are going through the same thing. So My Grandson really wants to be there for people in our local communities and to have a large social impact that way.

Ned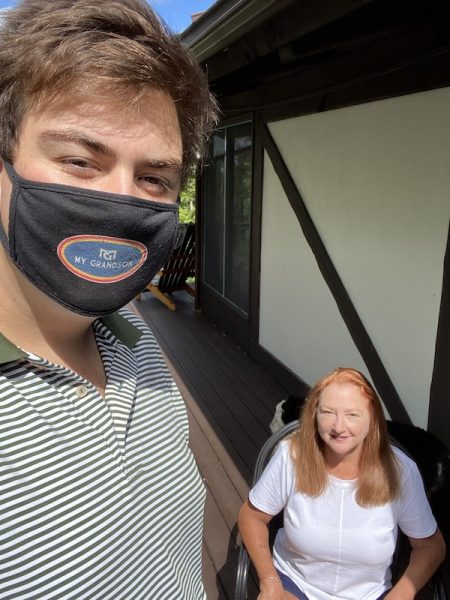 Alicia is younger than Ned's target audience, but she definitely fits the profile in terms of needs.
I'm stuck at home and limited with what I can do with my hands and feet. I needed somebody who could come in and do some of the things I can no longer do. We stained a railing that had recently been put in. He put up the flagpole that had blown over in the wind. He listed a bunch of stuff that I have for sale on Facebook. He tried walking me through it but he's much better at it. I just gave him the directions and he did it for me. I had some kitchen chairs that needed to be repaired. He did that. He does some grocery shopping for me. Before he heads up here he'll ask if I need anything at the grocery store because he has to go right by it. And he is going to start walking my dog for an hour every day because I'm not capable at the moment. He's like the boy next door and he's very reasonably priced.

Alcia
For groceries, Ned charges 15% of the receipt total. Trips to the pharmacy or places like the hardware store cost a $10 flat fee. For chores, yard work, and dog walking, it's $20 an hour.
Alicia couldn't be happier with the relationship. Ned says it benefits him as well, and not simply because it helps him earn an income.
It's been incredibly rewarding because she's such a nice lady and I really treasure the relationship that I'm starting to build with her.

Ned
And how does the threat of COVID-19 affect how Ned conducts business?
We have a list of pretty strict safety protocols on our website. When we go to the grocery store, for instance, we wipe down the handles on the cart with the Purell wipes the store provides and we make sure to stay six feet away from everybody and try to bag our own items. We put on some hand sanitizer right when we get into the car and make sure we're wearing a mask at all times. We drop off the items on the front step and then take a Clorox wipe and wipe down the bag.

Ned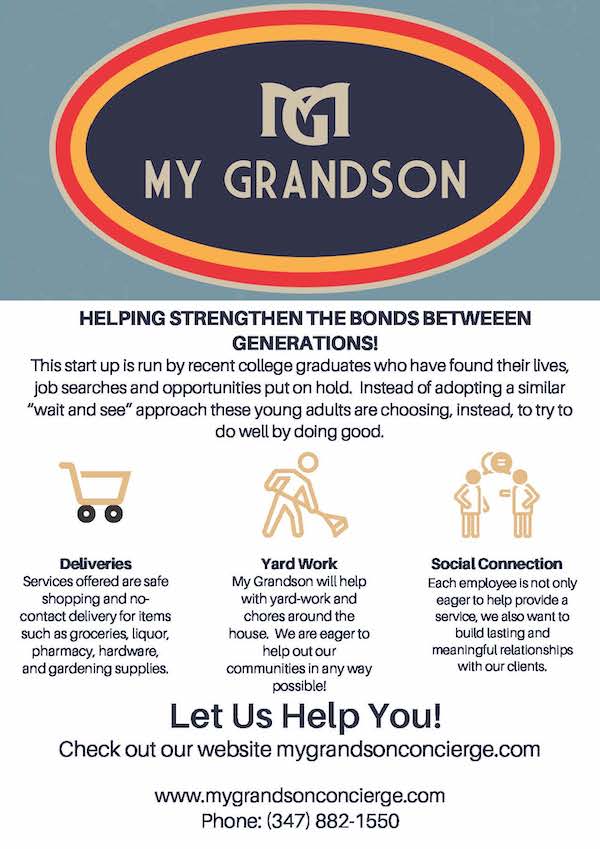 Ned isn't the only one providing personal concierge services. They're available in several other communities around the country and even in Madrid, Spain. Several longtime friends are also part of the My Grandson team in their own communities.
The way it works is I'm here as a resource for them. I've given them flyers, press releases, that type of stuff, but I've really tried to empower them to take the initiative in their own communities because they know their own community so well and have their own connections.

Ned
Alicia works with a team of people as well — mostly doctors, physical therapists, and occupational therapists. CMT can't be cured so she's always going to need extra help. And that's why Ned and My Grandson have also become an integral part of her team.
For more information, visit the My Grandson website.