Last August (2019) I sat down with then 93-year-old Bill Saltzer in his room at the Inn at Village Square in Gorham. I was there to interview him about his life and what it's like to be getting older for my Conversations About Aging podcast. It was back before COVID-19 when I could visit with people in person and lean in to record their stories. Bill had recently moved from his home where he had been living alone into the Inn, which is an assisted living community. He was still adjusting but taking advantage of lots of field trips and activities, including attending a nearby beanhole bean supper where I happened to be working in the kitchen.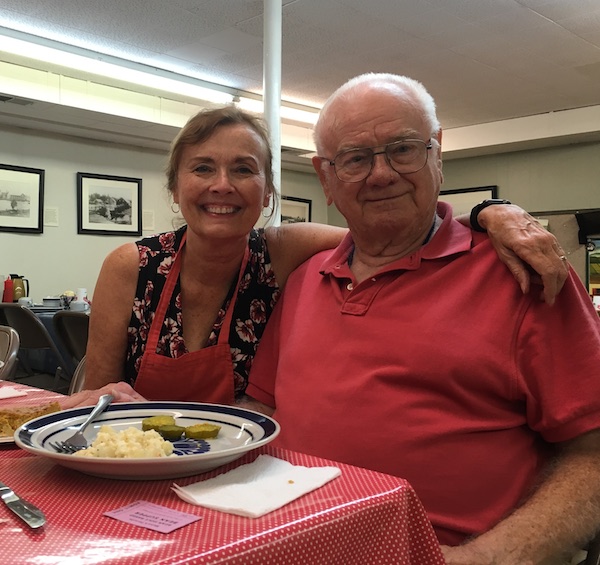 One of my stock questions when I do the podcast interviews, is "Are you ever lonely?" I expected Bill to say no, that he had a lot to keep him busy, but he shocked me by saying yes, that sometimes he was even more lonely than when he lived alone. He especially missed seeing his kids. I've told that story many times since because it taught me to never take anyone's situation for granted.
About a week ago, I received a surprise email from one of Bill's kids — his son, who is also named Bill. He and his three siblings had discovered my podcast interview with their dad by chance. He never told them about it. Just as I was, he was struck by his father's statement about loneliness and said that it was always a challenge because none of them lives in Maine, and with COVID-19 restrictions, going to visit him is now impossible.
Bill ended his email with a suggestion — that I consider doing some companion pieces to the podcast interviews and talk to family members about the various challenges related to aging parents, their healthcare, assisted living and other living situations, COVID, etc. I immediately took him up on his suggestion and asked if he'd like to write something.
I'm so grateful for his suggestion and that he didn't hesitate to say yes. This is what he wrote: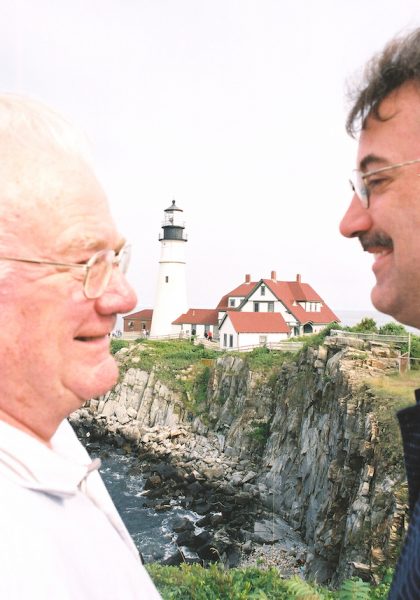 About a week ago, my sister Maureen came across (only by chance because of a "Google" search she was doing that involved our last name) Diane Atwood's podcast with my father: "Conversations about Aging: Bill Saltzer, 93". Dad didn't tell me, Maureen or my other siblings Patty and Tom about having done the podcast, so we didn't even know it was out there on the internet! Typical of Dad, I guess.  He has used the internet a little for years, but in my observation, he has always been slightly overwhelmed by its' complications (so am I at times and I use it all the time, so I wouldn't be surprised if many of our most senior citizens find it just too challenging). Dad had a computer and a tablet and used them for email, some genealogy research, and a few other things. Lately, even the tablet sits idle, however. When one of us goes to visit Dad, we encourage him to use it and often find we need to help him get it working again (is it connected to the wifi, is it locked or unused because of the complexity of keeping up with passwords, did some update change how the programs or websites he was using work, etc?). Now with the COVID-19 situation, we can't travel to see him and even if we did, we wouldn't be allowed to go inside the assisted living facility, so the challenge has grown larger.

Of course, now that we know about it, all Dads' children and his grandchildren have listened to the podcast and we can tell he thoroughly enjoyed the interview and telling some of his story. Yet one comment he made during the interview struck me hard and I could tell it struck Diane Atwood as the interviewer as well. He said he is lonely at times and perhaps even more so now in assisted living than he was when he was living at home alone. The interview was done in August 2019 – well before anyone ever heard of COVID-19 restrictions. Residing at the Inn at Village Square, Dad obviously has great care and day to day contact with more people than when he was living alone at home. Before the COVID-19 restrictions, he would go on the weekly trips arranged by the Inn to the store, the restaurant outings, the group excursions to a museum or a movie theater and other places. My sister Patty who lives in New Hampshire would drive over to see him about every month or so. I live in Houston, my sister Maureen in Florida, and my brother Tom in New Mexico, so we aren't able to go see him as often, but that was true when he was living at home as well. So perhaps there is something about aging and loneliness that doesn't get solved by moving from living alone to assisted living. In assisted living where you aren't so busy with cooking, cleaning, grocery shopping, running errands, paying bills, arranging heating oil deliveries, shoveling the walk, and all the other chores in life, maybe it is just the case that you have fewer distractions and therefore more time to think about the people you miss the most?

Since COVID-19 restrictions began, the situation is, of course, worse. My sisters and brother aren't sure when we will be able to travel to see Dad again. Even if we could get there, no visitors are allowed in (for good, health protection reasons).  In March, Dad's first great-grandchild was born in Washington DC (my granddaughter Lena) and his second great-grandchild (Patty's grandson Felix) arrived in May in Denver. We haven't yet been able to travel to see our grandchildren, let alone figure out how to get them together with their great grandfather in Maine! My daughter in Seattle (Michelle) started making her February 2021 Cancun wedding arrangements before COVID-19 hit and is trying to keep them intact, but the outlook of my dad being able to travel for that are not looking promising either. Fathers' Day just passed with phone calls but no visit.

We all talk with Dad by phone frequently and have arranged video calls (thanks to the kind and willing help of the staff at the Inn at Village Square) so Dad could see his great-grandchild in "real-time":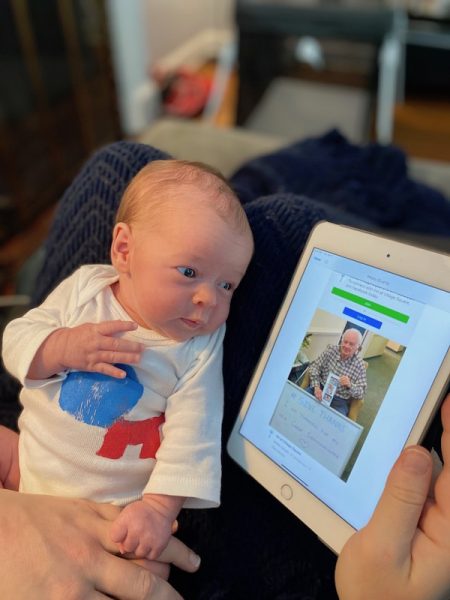 That helps of course and we'll keep it up, but it is not the same as direct family contact – a real hug and kiss, laughing at and with each other, watching a football game together, sharing a meal.

I am sure we are no different than a great many families trying to cope with aging parents (grandparents, great grandparents) and loneliness in this time of COVID-19. There are no magic solutions yet to be found, but as soon as we can, we'll be going to visit Dad again! In the meantime, we'll stay in touch by whatever means we can. I hope that reduces some of the loneliness.

Bill (son of Bill) Saltzer
The podcast with Bill's father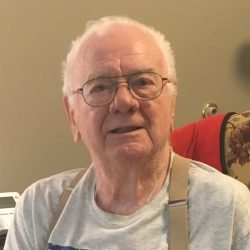 If you'd like to listen to my podcast with Bill Saltzer (or read the transcript) here's the link to it here on the Catching Health blog: Conversations About Aging: Bill Saltzer, 93.
He talked about the challenges of giving up your independence and moving into an assisted living community and also reminisced about being a Marine during WWII.