When Avery Richter was a child she could often be found helping her mother or grandmother in the kitchen.
For many reasons, my family has always cooked, so it's what I know and love. Everything was always focused around food — good times, bad times, times of celebration, it was always what are we going to eat? Who's going to make it? I always knew that I wanted to do something with food. I went to school for food science and human nutrition at the University of Maine with a concentration in food management. I didn't necessarily know I wanted to be a catering chef, but it just kind of worked out that way.

Avery Richter, Executive Chef, The Black Tie Company
Avery got her bachelor's degree in 2012 and immediately after graduation, she opened and ran a food truck called "Wrap N' Roll" in her hometown of Belgrade, Maine. In 2013, she started working for The Black Tie Company in Portland and two years later, was named Executive Chef.
The Black Tie Company has been around since 1988 and is best known as a catering business. I recently discovered that it also offers cooking classes and plan to attend an upcoming one on gluten-free cooking. I also discovered that Black Tie serves light breakfasts and lunches at Union Kitchen right off Commercial Street on Union Wharf.
I know you're always interested in healthy recipes (and so am I) and Avery says so are a lot of their customers. People still love their comfort food but more and more are looking for healthier options.
I think healthier to the average person would mean less carbs, less gluten and something a little lighter. A little less cheese, fewer cream-based items. You have to be flexible. We have more tools and a lot of chefs and businesses here in Portland are really open minded to that way of life and what's happening with food now, so there are a lot of options. And fortunately, for me, healthy food and food modifications are my passions with cooking.

Avery
In keeping with her passion for healthy food, Avery and I have teamed up to share several healthy recipes with you over the next few months. She'll show us how to prepare them and registered dietitian Kitty Broihier will tell us why they're healthy.
We'll begin with a recipe for farro grain bowls, which she whipped up at Union Kitchen.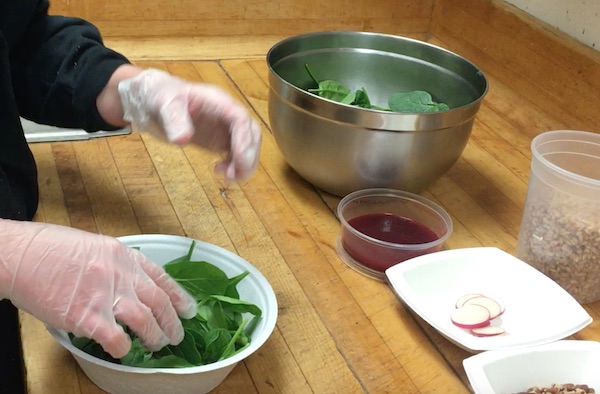 Farro Grain Bowl
This recipe should yield 4 portions or 3 really big bowls. 
Ingredients
2 cups cooked farro (see directions and video below)
Segments of 2 clementines or sumo oranges
1/2 c cranberry vinaigrette (see recipe below)
8 cups of salad greens (spinach, arugula, kale, swiss chard, or mixed blend are great!)
1 cup sliced radish
1 c dried cranberries (1/2 cup almonds optional)
Directions
Cook 1.5 cups farro like you would pasta. Bring a small saucepan to a boil and season water with 1TBS salt, then add dry farro. Cook until tender. The grain should have a slight bite, but shouldn't crunch.
Gather all of the above ingredients and create your bowl. Start bowl with 2 cups of greens. Top with 1/2 cup farro, 1/2 clementine separated into segments, 2 TBS dried cranberries, 6-7 slices of radish and nuts if desired. Drizzle 1-2 TBS cranberry vinaigrette over top to finish (recipe below) and enjoy!
4 oz of grilled chicken is also great with this bowl!
Cranberry vinaigrette
Makes 2 cups
Ingredients
1 TBS honey
1 TBS Dijon mustard
2 TBS hydrated and puréed dried cranberries (Soak them in water or some other liquid for about 15 to 20 minutes. Purée in a blender.)
1 TBS small diced shallot
1/3 cup champagne vinegar
1 cup vegetable oil
Salt/pepper to taste
Directions
Whisk all ingredients except oil together until combined.
Then vigorously whisk in oil as you slowly drizzle it in with the rest of the ingredients. It's very important to slowly drizzle the oil into the rest of the ingredients so that your vinaigrette comes together evenly (otherwise known as emulsified).
Season with salt and pepper.
What makes this recipe healthy?
As I mentioned, I asked registered dietitian Kitty Broihier to weigh in on the healthiness of this recipe. Kitty writes about food and nutrition at Nutricomm Inc. and she's also a Certified Mindful Eating instructor. Here's what she had to say:
here's a lot I really like about this grain bowl! Farro is an ancient grain that is underutilized in the U.S. which is a shame because it's got a great, rather chewy texture and is highly nutritious. Farro is a type of wheat so it's not gluten-free, but it is higher in fiber and protein than some other grains that one might typically use for a grain bowl. For the most fiber and nutrients, look for whole farro, not the pearled variety.

The other star of this bowl is the large amount of leafy greens, which most of our diets lack. Leafy greens generally provide plenty of vitamins like A,C,E and K as well as folate. Opt for dark greens here and look for unsweetened, dried cranberries or the reduced-sugar version.

I love the use of seasonal citrus, but you could swap in a different fruit if you like (chopped apple or diced pear would be tasty). I'd also add in the optional almonds for great textural contrast, flavor, and nutrients.
Kitty Broihier, Registered Dietitian

I got to take the grain bowl Avery made home with me and had it for lunch. It was the perfect blend of ingredients, but it would also be simple to change things up a bit. I thought the vinaigrette was delicious and I was reminded that I really like dried cranberries.
Avery encourages us to think of the recipes she shares as base recipes and to mix and match ingredients with whatever you have at home or feel like eating. You DO NOT have to head to the grocery store to buy every single ingredient on the list. I added some left-over chicken, which made for a really nutritious, fulfilling, guilt-free lunch. Thank you, Avery.