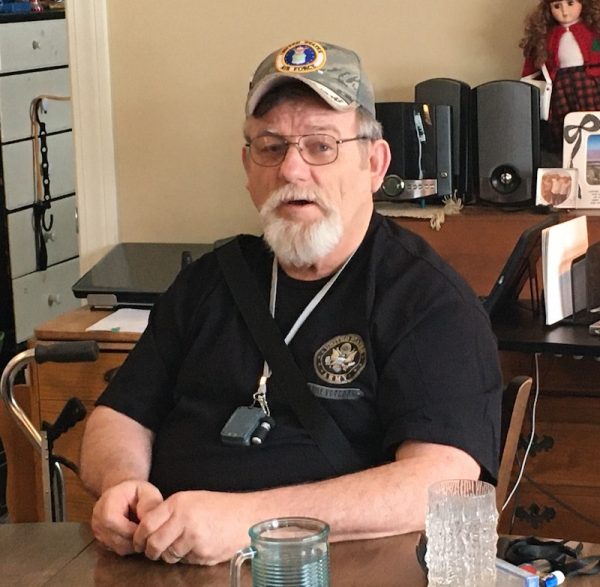 Pat Masters, who's 65, has had a rough time for a long time. He has a host of health issues, including short-term memory loss — the result of a traumatic brain injury he suffered from a serious fall in his early 20s when he was in the Army. He and his wife Sharon handle things the best they can.
Just recently, with the help of the American Legion, Pat was awarded long-awaited VA disability benefits. They will be a godsend. Already a godsend is a man named Chuck Thurber. Chuck is a volunteer with a program called Vet to Vet Maine.
Vet to Vet Maine is a nonprofit organization that offers support, companionship, a friend who understands, and a link to services to Maine veterans, especially those who are feeling lonely and socially isolated. The program is run by Sue Gold, who started it in 2014 when she was a volunteer for the Southern Maine Agency on Aging (SMAA) and was asked to do some research on the needs of older veterans.
I found that Maine has one of the highest percentages of veterans in the nation. More than 10 percent of Maine's population have served in the military. More than half of those veterans in York and Cumberland Counties are 65 or older. Only between 21 and 25 percent are receiving the VA benefits to which they're entitled. Many are living alone or with aging spouses and they're isolated from the community. I did a lot of research on older veterans but it also applies to younger veterans, as well. But some of the veterans I talked with told me they would never ask for help from anybody but another veteran.

Sue Gold, Executive Director, Vet to Vet Maine
Sue helped develop a friendly visitor program at SMAA that focused on one veteran visiting another veteran. In 2018, she and a group of Vet to Vet volunteers (now board members) took it over and created a non-profit organization that serves vets of all ages. Today Vet to Vet Maine has about 100 volunteers. Some are on the board and some work in the office. About 70 volunteers are themselves veterans who work in the field visiting other veterans.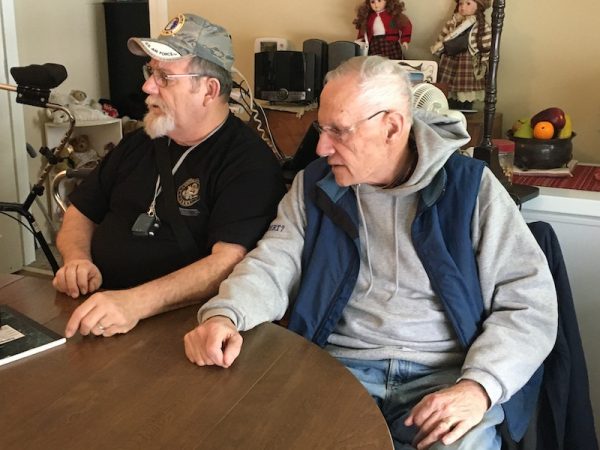 Chuck, a retired physician, served in the Navy during the war in Viet Nam. He's been visiting Pat for the past few months and has become a friend to both him and Sharon. He heard about Vet to Vet Maine from a friend in his church and has been volunteering for a few years.
I'd had three or four vets before I started working with Pat. Basically, I visit, as a companion and a helper, once or twice a week with the different vets. With these two guys, we go out to have coffee every week and then we also went over to see the Maine Military Museum in South Portland. It's a great place to visit and then at Christmas we had a free public dinner at my church and we went to that.

It brings me the idea that I can make a contribution in somebody else's life, particularly in the area of providing human contact and companionship, alleviating loneliness, that kind of stuff. I have to say one thing about Pat and Sharon, they're great listeners. If I share something with them, they're generally interested in what I have to share with them, as well as me being interested in what they have to share.

Chuck Thurber, Vet to Vet maine volunteer
In other words, as a volunteer, Chuck not only gives, he also gets something back.
Pat says what appealed to him most when he heard about the Vet to Vet program was that he'd be matched with another veteran. Even though he and Sharon have each other, he says he often feels down and lonely, especially since his beloved service dog passed away. And Sharon has had to become her husband's fulltime caregiver, which isn't always easy. Having Chuck in their lives has helped both of them.
He's someone who understands. Without saying anything, we understand one another. I'm truly blessed. The camaraderie is great. I think Chuck deserves a gold medal and a commendation for going above and beyond the call of duty and putting up with me!

Pat Masters, Vet to Vet Maine veteran friend
It brings me peace because I know he has someone now that he can confide in and I know if Pat called Chuck for something, he'd be right there, without a doubt. Sue Gold set it up and Chuck gave us a call and came over and visited and it's a wonderful relationship that we all have. It's like a family.

Sharon Masters, Pat's wife.
Sue Gold says she really takes it seriously when she matches people.
I spend about an hour with each veteran that I visit in their homes and talk about who they are, basically. What they like to do, what interests them, what used to interest them, what their family history is, their work history. I get as much information as I can so that when I'm matching them with a volunteer, I can do a good job. The volunteers spend nine hours of training with us and have a case review every other month.

Sue Gold
Sue believes the Vet to Vet program is pretty unique in Maine and possibly, the nation.
We really haven't found anything else like it exactly. There are some support groups, there is some mentorship, but what we do is match a veteran with a fellow veteran, including women, of course. We are connecting friends for life. Not only do they become friends to the veteran, they beome a huge support to the family.

Sue Gold
A blessing all the way around, says Sharon.
For more information about being a volunteer or applying for a visitor, visit the Vet to Vet Maine website.