Since, for most people, the holidays are all about family, I reached out to one of my family members for this week's recipe. My sister Debi has always been an inspiration to me when it comes to trying to be healthy — emotionally, spiritually, and physically.
As far back as I can remember, Debi has always tried to eat and serve nutritious meals. Sometimes, with mixed results.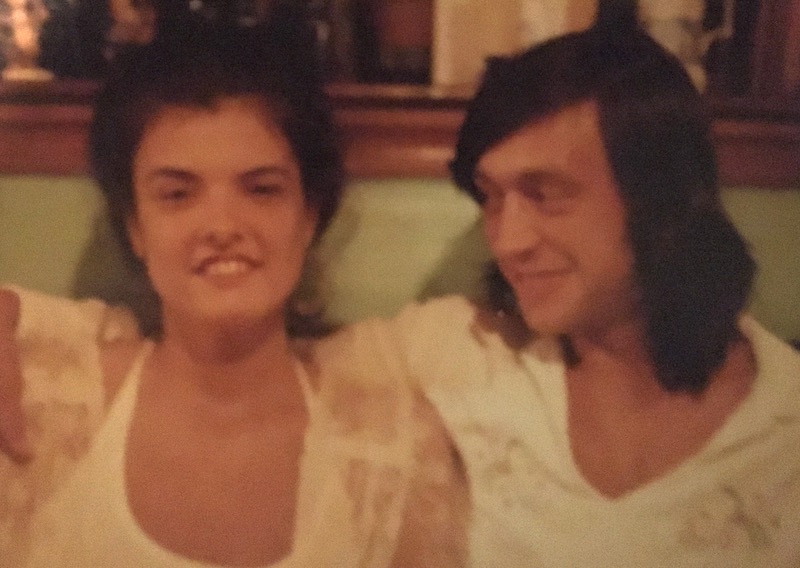 Like that time back in the early 70s when she and her husband Bill tried being vegetarians. (Sorry for the blurry picture — my fault. I had to use it because I think they look so sweet and beautiful.)
Read Debi's story about her first attempt to eliminate meat from their diet.
We decided to move 'back to the land' after reading the Nearings' book,

The Good Life,

and to be vegetarians. Hardly knowing how to cook period, I would serve up a meal based on the meat and potato model without the meat. Reading somewhere that soybeans were a good source of protein I remember serving boiled soybeans for dinner. When the plates came back with the soybeans uneaten, I saved them and served them up for lunch the next day. (I learned that growing up!) We were living in mid-Maine and it was the coldest winter any of us had ever lived through. Bill was a mason tender, working outside all day and I was serving him nothing but veggies and the occasional bean, hardly a diet to sustain him. One day he looked at me rather pathetically and said, "Can we eat meat again please?"  Well, I did learn how to cook over time thanks to reading many cookbooks and to many friends and teachers.
Debi did, indeed, learn how to cook. No complaints from Bill, from me, or from anybody else ever again! So you can trust that a recipe from Debi will be good. Here's one she thought would be great if you'd like to cook something special over the holidays — stuffed winter squash.
This is a recipe that can take the place of stuffed fowl. It is primarily from a recipe in The Natural Gourmet written by Annemarie Colbin, but I have tweaked it somewhat using a recipe from a macrobiotic cooking class called Gourmet Entrees for the Holidays that I took with Lisa Silverman and Jessica Porter.
Stuffed Winter Squash
Ingredients
3 medium or 6 small winter squash
1 small onion
1-2 cloves minced garlic
1-2 stalks celery, thinly sliced
1 tablespoon olive oil or sesame oil
1/2 tsp. dried basil
1/2 tsp. dried oregano
1/4 tsp. ground sage
1 cup cooked brown rice or 1/2 brown with 1/2 wild rice
1/4 cup currants or 1/4 cup dried apricots (soaked and chopped into large chunks)
1/3 cup roasted pumpkin seeds or 1/3 cup roasted and chopped pecans or walnuts
1 tablespoon shoyu or tamari
sea salt to taste
 Instructions
1.  Preheat the oven to 375.  Wash the squash and cut for stuffing, making sure each half can stand on its own, cut side up.  Take a thin slice off the bottom is necessary to make it stable.  Do not remove the seeds.  Bake the squash, cut side down, on a cookie sheet for 45 minutes.
2.  Meanwhile, make the filling.  Peel the onion and chop finely.  In a 2-quart saucepan, heat the oil and saute the onion over medium heat for about 2 minutes. Stir in a pinch of salt to release water from the onion.  Stir in the garlic and saute a few more minutes.  Add the celery, basil, oregano, and sage and cook until celery is tender. (about 5-8 minutes)  Add the cooked rice to the onion mixture, along with the fruit and nuts (or seeds).  Stir to combine well.  Add the shoyu.  Taste.  Season with salt if necessary.  Set aside.
3.  Remove the squash from the oven and increase the oven temperature to 400.
4.  When the squash is cool enough to handle, remove the seeds by scooping them out with a spoon.  Place 1/3 cup of the filling in each squash half (depending on variety of winter squash you are using).  Return to the oven and bake for 20 minutes more.  Serve immediately.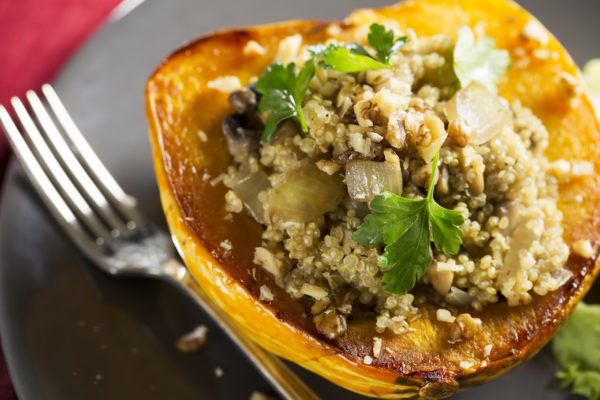 One last thing …
Think of the squash as a vessel to hold many dishes, like mac and cheese, thick stew, mixed veggies, couscous, creamy bean dishes, etc. You can use other grains in place of rice, like buckwheat or barley. However you cook your squash, have a wonderful holiday!