Two recipes for you this week. Comfort food from Chris Ward. We met a few weeks ago when he was visiting Maine from San Fransico. Chris loves to cook. When I asked if he'd like to share some recipes with Catching Health, he said of course!
He was also was kind enough to tell us the story behind the recipes and pass along some helpful tips. And he took some great pictures that are sure to make your mouth water.
When I think of comfort food, the first image that comes to mind is my mother's golden roasted chicken. At least once a week, especially during the cold days of winter, the smell of Oven Bird (that's what we kids called it) wafted through the house, warming us just as much as the heater. Oven Bird has been a staple of my cooking for decades, full of both taste and memories. Cooking a whole chicken is one of the kitchen basics, but over the years I have experimented to create what I think is the perfect Oven Bird.  I know my mother would love my version of her favorite meal.

OVEN BIRD
Ingredients
1 small (4 lb) Chicken
3 tablespoons coarse salt (use less if using fine ground salt)
1/8 cup fresh rosemary, chopped
6 large cloves of garlic, chopped
Black Pepper to taste
1 tablespoon dried thyme
Instructions
Get started by buying a small chicken — don't go for those five or six-pound roasters. Instead, try to get a four-pound fryer. If you need more chicken than a small bird offers, buy two small ones rather than a larger one. The first reason for this is that smaller chickens are younger and more tender, but the second reason is even more important. This recipe calls for a very, very high heat oven (450 degrees), and a large chicken will burn before the inside is up to eating temperature. The high heat is the key to a moist, delicious chicken.
Get your chicken one day ahead and dry brine it by heavily salting it, inside and out. For one 4 lb bird, use about two full tablespoons of course sea salt. Keep the salted chicken in the refrigerator overnight. The dry brine will moisten the chicken and change the texture of the skin so that it bakes to an irresistible, golden brown crunchy crust. Take the chicken out of the refrigerator about two hours before cooking. It needs to be at or near room temperature when going into the oven. Pat the bird dry (there will be lots of liquid from the brining). If the chicken is too wet, it will steam instead of roast in the oven.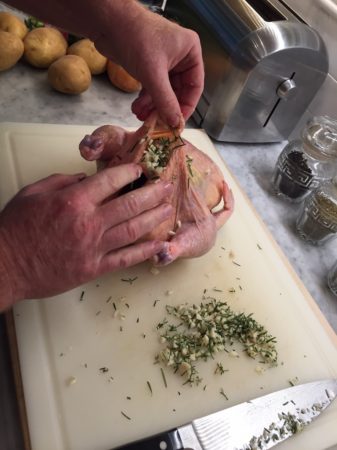 One of the keys to the best possible Oven Bird is to put a layer of herbs under the skin. I like to use fresh rosemary and garlic — lots of it (my mother always used to say "if a little is good, a lot is better!").
Take about 1/8 cup of fresh rosemary and six large cloves of garlic. Chop them together into a crude paste.
Using your fingers, separate the skin from the chicken — I start with the breast and then work my fingers down between the thigh and the body. Insert some of the rosemary and garlic.
Do the same thing to the front end of the chicken, working your fingers under the breast.
Truss the chicken with string.
Take the remaining rosemary and garlic and cover the outside of the skin. Also, use fresh ground black pepper (be generous) and a little bit of dried thyme.
Place the bird in a lightly greased cast iron skillet and pop it into a pre-heated 450-degree oven. The chicken should cook for 45 mins to an hour, or until your meat thermometer reads 175 in the deepest part of the breast (it will continue to cook up to 180 or more after you take it out of the oven). Check the chicken at 45 mins, and if it is getting too brown, turn the oven down to 425.
But wait, there's more! The best part of Oven Bird dinner is the side dish — Crazy Potatoes. Why the name Crazy Potatoes? Maybe because they are crazy good?

Crazy Potatoes
Ingredients
4 to 5 pounds potatoes
2/3 cup diced white onion (additional chives can be added for color)
4 tablespoons white vinegar (Champagne vinegar is best)
3 tablespoons butter
½ to ¾ cup milk (do not make the potatoes too wet)
Black pepper to taste
The pan drippings from the roasted chicken –about ½ cup
Instructions
This one is easy — make your favorite mashed potatoes: Boil potatoes, drain, mash, add butter, salt, pepper, and milk, then stir until smooth. Only follow my instructions to make them Crazy Potatoes.
First, two quick tips to make your mashed potatoes better:
1) After slicing them to boil, wash them in water to drain away some of the starch
2) After they have boiled, drain them and return them to the hot pan for a moment to evaporate the remaining water before mashing.
That's the normal way you make mashed potatoes. For Crazy Potatoes do this instead: use much less milk, much less butter, and a little less salt. Chop 2/3 cup of white onions, add 4 tablespoons of white vinegar and mix into the potatoes.

Secret ingredient and a dangerous moment
Then add the secret ingredient. Take the chicken out of the oven and set the bird on a platter. The skillet will have about ½ cup of chicken oil and drippings in the pan. Pour these drippings into the potatoes and stir until fully blended.
Salt to taste. This is a moment of great danger. When you taste them you will be tempted to continue tasting them, until the pan is empty. Some people have been known to become violent. Resist eating them all and try to leave some for plating. Serve the Oven Bird and Crazy Potatoes with something good and green (broccoli rabe is shown in the photo).
Thank you for the recipes, Chris Ward! I hope there are more in our future.