---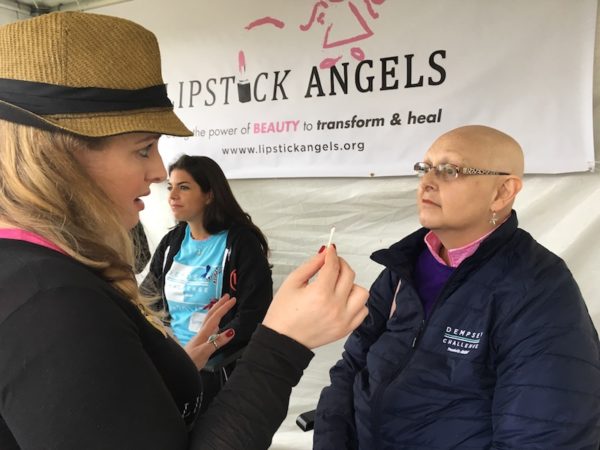 Kristin Ann Fahlbusch scrutinized Karen Albert's face so she could decide which shade of lipstick would look best on her. Karen already had a little bit of bling going on with her glasses and her earrings. She wasn't looking for anything too outlandish on her lips, just something to give her a little color. Kristin chose a natural shade and went to work.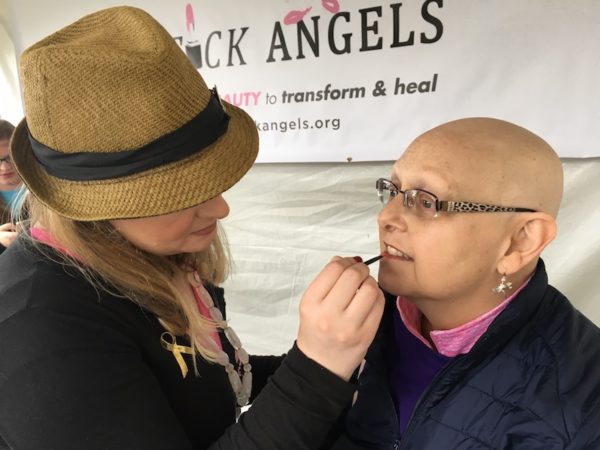 The past four years haven't been easy for Karen. She was diagnosed with inflammatory breast cancer in 2013 and went through chemo, a double mastectomy, and radiation therapy. Fourteen months later, the cancer was back — this time in her liver. She's now on her third clinical trial and travels to Boston several times a month to get a combination of chemo and immunotherapy.
"It's working well to keep my cancer at bay," she told me. "My tumors have shrunk 30 percent since February, but it's got some tough side effects. Fatigue, body aches, nausea, and as you can see, I've lost my hair. No eyebrows or eyelashes anymore. It's hard to look and feel your best."
What Karen needed was a little pampering, from an angel maybe. An angel like Kristin Ann, which is actually what she is. Kristin Ann represents a non-profit organization called Lipstick Angels. It was founded by celebrity makeup artist Renata Helfman in 2012. Makeup professionals like Kristin Ann go to the bedside or the infusion center at participating hospitals and try to bring a little love and beauty to patients having cancer treatments. The program is currently in four hospitals, three in California and one in New York City. Kristin Ann manages the New York program.
"We provide completely complimentary beauty support services to patients," she explained. "Everything from aromatherapy to full-faced makeup to hand massage to eyebrow tutorials for people who have lost or are about to lose their eyebrows. We're able to show them how to fill them in naturally on their own. There's a lot of education behind the work we do, which sets us apart from other organizations."
I met Karen and Kristin Ann at the ninth annual Dempsey Challenge in Lewiston, Maine. The two-day bike and running event was created by actor Patrick Dempsey, whose roots are in Maine, to raise money for the Dempsey Center. The Center, which is also in Lewiston, provides free support and a multitude of services for people dealing with cancer. The inspiration for the center came from Patrick's late mother Amanda Dempsey, who lived with ovarian cancer for more than 17 years before her death in 2014.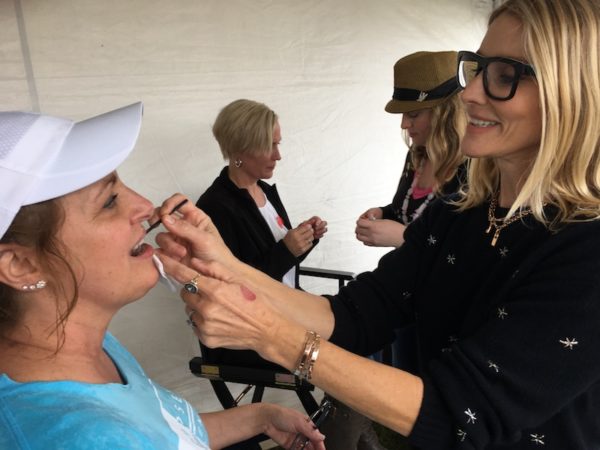 Lipstick Angels had a tent at the Dempsey Challenge where Kristin Ann worked alongside Patrick's wife Jillian Dempsey. Together, they pampered hundreds of women by choosing just the right lip color and giving them complimentary tubes of lipstick. Jillian, who is also a professional celebrity make up artist with her own line of makeup, collaborated with Lipstick Angels to design six lipstick colors specifically for the Challenge.
"I've known Renata for years and years and years," she said, "but we hadn't crossed each other's paths in a very long time. She found out what Patrick had been doing for the center and we reconnected. I was looking for something my daughter Talula could do at the event. The idea to give away organic, nontoxic lipsticks along with a bit of awareness about Lipstick Angels just blossomed."
Jillian asked her lab and her packaging company if they would donate their services and materials to create the products. "It never hurts to ask," she said. "It's for a good cause and everyone has been affected by cancer, everyone. They were lovely about it."
Unfortunately, Talula was sick and couldn't make the event. On the bright side, her brother Sullivan (whose twin brother Darby was off riding his bike with his dad) good-naturedly took her place and was kept busy handing out the lipsticks.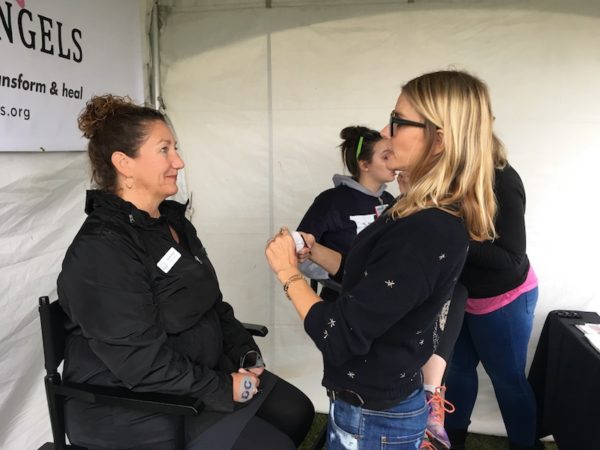 Unlike Karen, a lot of the women who stood in line for a lipstick consultation with Jillian and Kristin Ann did not have cancer. Still, they had all been touched by cancer in some way. Nicole Avery, for instance, is the Executive Director of the Cancer Community Center in South Portland, Maine. Like the Dempsey Center, it also provides free support and a multitude of services and programs for people dealing with cancer. A few months ago, the two organizations announced they will be merging under the Dempsey Center name.
The goal is to have Dempsey Centers scattered throughout the state of Maine. The need for love and support is everywhere. Which is why Lipstick Angels would like to expand its services, too.
"We would love to be all over the United States," said Kristin Ann. "Visit our website to learn more and connect with us. Find out if you can be a volunteer. I'd been waiting for an opportunity like  Lipstick Angels where I'm combining my love of beauty and experience in the beauty industry for over ten years with philanthropy — doing something good and feeling fulfilled. This is a dream job for me."
And those few moments of pampering that Kristin Ann was able to give Karen were pure gold. "It provides comfort," said Karen. "It's hard. So much has been taken away, sometimes something as simple as getting a boost in your self-esteem with something like this helps immensely."