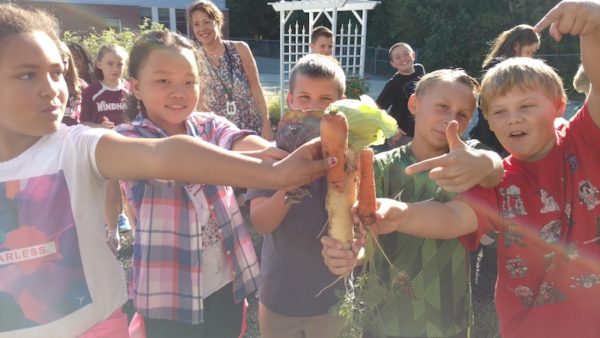 The students in the Windham Raymond (Maine) School District are so-o-o-o fortunate! Not only do they get to plant and run the school gardens, they also get to harvest the produce and learn how to cook and eat it in their farm-to-school cooking club.
We were first introduced to the gardens and cooking club when Chef Samantha Cowens-Gasbarro shared the kids' recipe for Quinoa Pizza Bites at the beginning of summer. She's the School Nutrition Coordinator for School District RSU #14 in Windham and Raymond.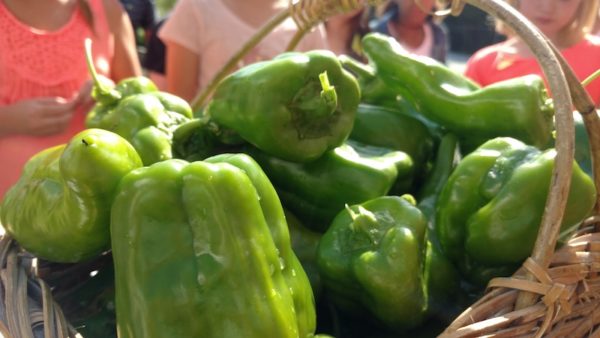 Here it is autumn and the kids are all rested up from summer break and busy in the gardens and kitchen. "I would say that right now, much of our produce is local and from our school gardens," said Chef Samantha. "It is so important to eat local produce for better nutritional quality and flavor as well as supporting your local farmer! We have two school gardens that are student-run and grow produce just for students and our school lunch program. It is a great way to connect kids to our cafeteria and what they are eating."
This time, they're cooking with quinoa again, only instead of pizza bites, they're making a hearty soup that's chock full of vegetables. And to satisfy your sweet tooth, how about some zucchini applesauce cookies!
"Kids love making the soups and other vegetable recipes because they get to be a part of the process," Chef Samantha said. "When they are a part of the process they're more inclined to eat the product (whether it is zucchini applesauce cookies or vegetable quinoa soup!) I love the soup recipe because you can use any vegetables you have on hand!"

Quinoa Vegetable Soup
(Per two kids)
*A note about cooking quinoa: 
You may want to cook the quinoa ahead of time and then add it. Otherwise, it can get mushy because it absorbs too much liquid. If you prefer to cook it with the other ingredients, just be careful not to let it overcook. If you cook it separately, generally, it's 2 cups of water to 1 cup of uncooked quinoa. Bring to a boil over medium heat. Reduce heat to low, cover and simmer until most of the liquid has been absorbed, usually 15 to 20 minutes.
Ingredients
1 tablespoon olive oil
1 medium onion, diced
2 cloves garlic, minced
1 red bell pepper, diced
2 large carrots, diced
2 ribs celery, diced
32 oz diced tomato, canned
5 oz baby spinach/kale
1 cup quinoa, rinsed and drained *(See note above about cooking quinoa)
4 cups low-sodium chicken broth (sub vegetable broth if needed)
1/2 teaspoon fine sea salt
pepper
Directions
In a large saucepot, heat oil over medium-high heat until hot, then add onion, garlic, celery, and carrots. Cook 6 to 8 minutes or until golden and soft.
Stir in diced tomatoes and chicken broth.
Add quinoa and spinach/kale. *(See note above about cooking quinoa)
Reduce heat to medium-low, cover and cook 20 minutes or until quinoa is cooked and vegetables are tender.
Zucchini Applesauce Cookies
(Makes 24 cookies)
Ingredients
1 cup flour
1 teaspoon baking soda
1/2 teaspoon salt
1 teaspoon ground cinnamon
1/4 teaspoon ground cloves
1/8 teaspoon ground nutmeg
1/4 cup applesauce
3/4 cup dark brown sugar
1 large egg
1 teaspoon vanilla extract
1 cup shredded zucchini
2 cups old-fashioned oats
1/2 cup raisins
3/4 cup semisweet chocolate chips
Directions
Preheat the oven to 350 degrees F. Line a baking sheet with a Silpat baking mat or parchment paper and set aside.
In a medium bowl, whisk together flour, baking soda, salt, cinnamon, cloves, and nutmeg. Set aside
In a large mixing bowl, combine applesauce and brown sugar, mix until smooth. Add egg and vanilla extract. Next, add the shredded zucchini. Mix until combined.
Slowly add flour mixture until just combined. Stir in oats, raisins, and chocolate chips
Drop cookie dough by tablespoons, 2 inches apart, onto prepared baking sheet. Bake for 10-12 minutes or cookies are slightly golden around the edges and set. Remove cookies from pans; cool completely on wire racks.
Enjoy!