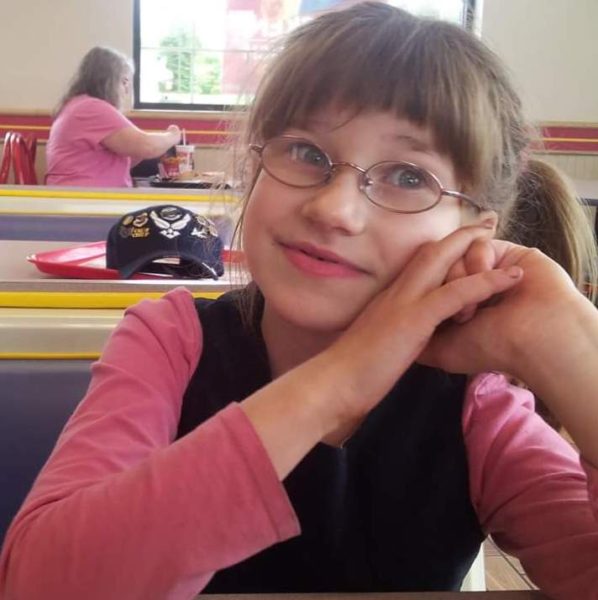 When she was two, Kaylee Lurvey could say Mamma, Daddy and a toddler version of her kitty's name — Buball for Snowball.
But by the time she was three, Kaylee was no longer using words. She was diagnosed with autism and a rare condition known as 10Q deletion syndrome.
Kaylee is now 11 years old and while she has come a long way, her parents are still looking for answers as to why she developed these conditions. Take autism: "There are so many what if things and so many ideas that say hey, there's this increased risk," says Kaylee's mother Candice. "We hear a lot of that but there are no real concrete answers."
Candice is the kind of woman who jumps in with both feet in her search for answers and to help other families touched by autism. That's why she and her husband put on an annual community event to raise money for autism research (in the past seven years they've raised $10,400). Why she doesn't hesitate to spend time on the phone with another parent who has a child with autism. And why she decided to participate in SPARK.
SPARK is a landmark online autism research project launched in 2016. The project is sponsored by the Simons Foundation Autism Research Initiative. The goal is to enroll 50,000 people with autism over a three-year period along with their biological parents. One individual and two parents are referred to as a trio.
The Lurvey family is a trio. They gained their status by enrolling online (took about 15 – 20 minutes) and then each contributing a DNA sample. Once they had enrolled, SPARK sent them three collection kits. Candice and her husband simply spit into the provided tubes and mailed them back. It was a bit trickier to get Kaylee's sample, but Candice prevailed!
"It took longer because Kaylee would swallow her saliva before she would let me in," she said. "I had to make a little game out of it. She likes a high pitched voice. I'd say hey, how's it going and she'd get all excited and laugh and giggle and that's when I stuck the syringe in real quick and got the spit."
It may have been a game getting Kaylee's saliva sample, but dealing with autism is absolutely no fun. Autism is an umbrella term for a group of complex developmental or autism spectrum disorders. An estimated one in 68 children in the U.S. is on the autism spectrum. 
"The autism spectrum captures people who have challenges in two core areas," explained child psychiatrist Dr. Matthew Siegel. "One is in social communication challenges and the second is in restricted repetitive behaviors and interests. It's called the spectrum because in one or both of those areas there's a wide range of symptoms. For instance, with communication, it goes all the way from someone who does not speak at all to someone who is hyper-verbal but has difficulties with some of the subtleties of social communication."
Dr. Siegel works for Maine Behavioral Healthcare and the Maine Medical Center Research Institute. SPARK tapped the two organizations to recruit participants from Maine, New Hampshire, and Vermont — 250 trios annually for the next three years. Dr. Siegel is the principal investigator for the region.
Because autism represents such a wide spectrum of disorders, it is challenging to study possible causes and treatments. Being able to study the DNA or genes of 50,000 people and their biological parents nationwide is why the SPARK study is considered so important.
"We know that a significant portion of autism can be attributed to changes in a person's DNA," said Dr. Siegel. "However, we are still in the early stages of identifying specific changes in a person's genetic code that we can relate to autism or to certain features of autism. In order to become much more knowledgeable and specific about all of the changes that can be part of autism at the genetic level, we need very large DNA samples from people. The genesis of the SPARK study is to collect 50,000 samples from people with autism — of any age, anywhere on the spectrum, any severity, and any gender. If we obtain their genetic code or sequence as it's called we can start analyzing what kinds of changes are associated with or line up with certain features of autism."
So far, 50 genes with a connection to autism have been identified, but there could be an additional 300. Once identified, the next step would be to gather information on the people who have changes in those genes. "Say this person with autism has a change on chromosome 22," explained Dr. Siegel. "We then need to look across all samples and see if there is anyone else who has the same exact change. Then we look at the characteristics of those two people or those 10 or 20 or 50 people who have that specific change. And then we can start to identify whether this is a particular form of autism. That's what moves us forward toward getting more specific about understanding autism and potentially, developing treatments."
Candice said she was delighted to receive a $50 Amazon gift card for participating, but more importantly, she and scores of other people may finally get some answers. "Right now, we have no real answers, "she said. "That's why SPARK is so incredible. Normally, you hear of these big projects in other towns and other states far away from us. This is right in our own back yard so I'm really excited about that."
How to participate in the SPARK autism study
If you live in Maine, New Hampshire or Vermont and would like to participate in the SPARK study, click here to enroll. 
For more information, contact
Laurie A. Raymond, LCSW
Research Coordinator/SPARK Northern New England (NNE)
Maine Medical Center Research Institute
Phone:  207 661-7620
SPARK EMAIL:  sparknne@mmc.org
If you live in other parts of the United States, visit the SPARK website for more information or to enroll.