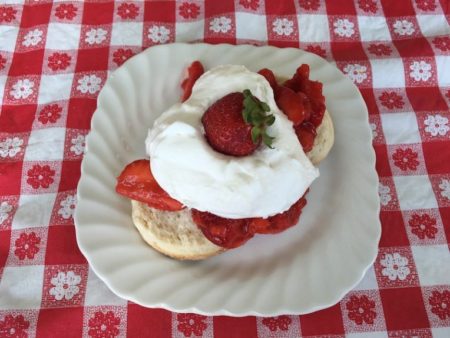 Something I look forward to every Fourth of July — besides fireworks — is strawberry shortcake. It's an Atwood family tradition. Freshly picked strawberries, real whipped cream, and homemade biscuits. Delish!
It's the height of strawberry season and they're ripe for the picking. If you live in Maine and would like to find a you-pick strawberry farm, you should check out my list of Where you can pick strawberries in Maine.
Even though I highly recommend strawberry shortcake, maybe you'd like to offer your family a slightly lighter holiday dessert. This one comes from Alex Caspero, a registered dietitian and Everyday Chef for Fruits & Veggies — More Matters.
The Perfect Summer Dessert! Berry Kebabs
This easy recipe is perfect for summer entertaining on the 4th of July … and beyond! Fun, festive and healthy, these kebabs make a tasty side dish or dessert for any BBQ.

I opted for strawberries, bananas, and blueberries for the red, white and blue but you can substitute your favorite fruit of choice. Blackberries, watermelon and raspberries would work as well. I liked the look of alternating strawberry and banana, then finishing with a row of blueberries, but any pattern will work.
Ingredients
2 large bananas, sliced
1-pint strawberries, sliced
1-pint blueberries
10-12 wooden skewers, for serving
Directions
Thread the bananas, strawberries, and blueberries onto the wooden skewers.
Continue with the rest of the fruit, alternating as desired. Place on a serving platter and serve.
Nutrition Info
Per skewer (1/10th): 53 calories, 0g fat, 1mg sodium, 175mg potassium, 0mg cholesterol, 13g carbohydrates, 8g sugars, 2g fiber, 1g protein
More strawberry recipes
Still hungry for more recipes? Read this: You Have to Try These Strawberry Recipes.
How do you like your strawberries?