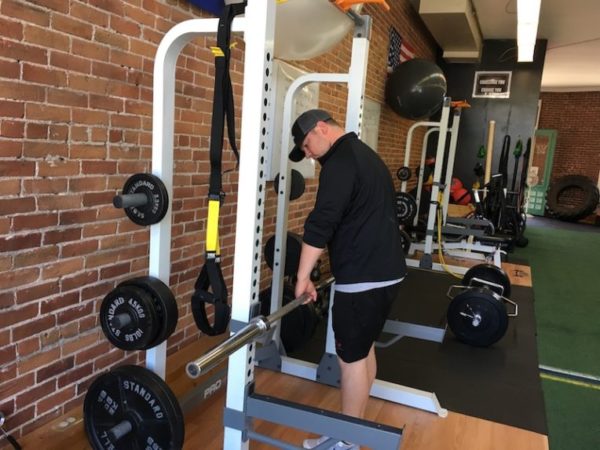 Sometimes it's the smallest things that make the biggest difference. Like lowering the bar from 11 to 10 when I did my elevated arms pushups last week.
When I saw Andy, my health coach from AW Strength & Conditioning, a few days later, I complained of the soreness in my upper chest and shoulders. His big grin was disarming. Smiling because I was in pain?!
He told me,"I really enjoy somebody saying yup, after that last session, I really hurt — in a good way. Especially, if they've been working with me for a while."
He explained that we can get too confident doing a particular exercise and changing things up allows us to be humble. Take me, for instance, I've been going to Andy and doing pushups (and lots of other exercises) for about six months now.
"And you're getting really good at them," (thank you for that Andy.) "So now we need a change. Once you become comfortable with an exercise, we're going to test you and push you to a limit where you're still doing it effectively and safely."
There are other ways you can make small changes in your exercise routine. Holding a 10-pound weight when you do squats, for instance. (Sorry, no picture.)
"Increasing the weight load and holding the weight in the goblet position (vertical) engages the core," Andy explained over my groans. "We've been doing it a lot with just body weight and gaining control. Now we're starting to increase the level of difficulty by adding the weight."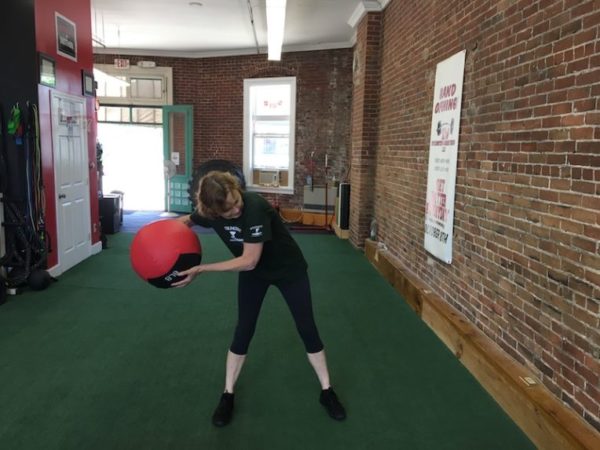 And sometimes, you can make a difference by simply adding a little twist. This movement, which goes by several names — scoop toss, bucket toss — was fun. Instead of staying put when I tossed the medicine ball against the wall, I had to turn and toss.
"It works the core and the midsection," said Andy. "For the most part, it's all about stabilization. Usually when you're going into a twisting motion, especially when you have a little bit of load, that's when injuries can occur. We want to make sure that if a load is coming from the side, we can absorb it and not have it change or affect us in a negative way."
How quickly should you add changes to your routine? It's subjective and depends on how the movement feels. Slow increments are best, said Andy. "It's not adding a ton of weight at one time. It's adding a small amount of weight, seeing how it feels — testing and retesting."
Pain versus discomfort
Getting back to that soreness he was so delighted about. Some discomfort and muscle fatigue is normal after you've been working out. If you put too much stress on muscles or add it too quickly, it can cause pain. It's important to recognize the difference.
I was sore after Andy lowered the push ups bar, but as he mentioned, it was a good sore. It let me know that I'm getting stronger. When I'm comfortable with level 10, I will welcome level nine with joyful, elevated arms.
Fitness Fridays on Catching Health
And now, let me tell you about a little change we're making on the Catching Health blog. I've been posting something about working out with Andy every other Tuesday. And here and there, I'll have a blog post related to some physical activity — the other day, for instance, I wrote about Portland Wheelers.
We've decided to make fitness a regular feature. From now on, every Friday will be all about fitness.
In addition to updates from my discomfort zone and personal training tips from Andy, we'll have advice from sports medicine specialists and other fitness experts. We'll also let you know about all the different ways you can be active. Like, maybe you prefer dance steps over push ups or kayaking instead of running. It's all good.
We know that being physically active is critical to leading a healthy life, but so many things seem to get in the way. Our goal is to make it easy and fun for you and, in a way, to be your own personal fitness coach.
If you have any questions for our experts or want to let us know about some great activity you think people might want to know about, send me an email or use the comment box below.
See you on Fitness Fridays here on Catching Health!