You wouldn't believe how many pictures and videos of bees I have. That's because we keep honeybees in our backyard. It's my husband and daughter who are the beekeepers, but I'm not afraid to get up close and personal with them myself. They're such fascinating creatures.
Most of our beekeeping equipment and advice comes from Phil and Meghan Gaven, who own the Honey Exchange in Portland, Maine. So naturally, when we wanted a healthy honey recipe for Catching Health, they're the ones we contacted.  They also shared some interesting information.
Is honey nutritious? How?
We like to say all honey is nutritious. It contains trace minerals and B-vitamins and sugars that are easy for the body to process. Raw honey has additional benefits, as the enzymes (which break down if honey has been heated) the bees have introduced to the honey are believed to be beneficial to digestion and the immune system. Unfiltered honey has traces of pollen (an excellent source of amino acids) and propolis (an antibacterial and antifungal). Many people find that local honey helps alleviate pollen allergies.
What do you think is the best kind of honey for cooking in recipes?
The world of different flavors in honey open up a whole new "spice rack" most people didn't realize existed for their cooking. Meadowfoam honey tastes of vanilla and makes an excellent honey for desserts. Brazilian Pepper honey has a green pepper spice that pairs beautifully with cornbread or jalapenos. Sesame honey pairs well with any dish containing soy sauce or sesame oil. Goldenrod honey adds earthiness and depth to baked goods or granola. The list is as long as the list of nectar sources
You sell Manuka Honey. What is that and why is it healthful? 
Manuka honey is believed to have more anti-bacterial properties than other kinds of honey, due to the medicinal qualities from the Manuka bush. It makes an excellent topical healer for cuts, scrapes, and burns; it soothes sore throats, and it heals skin ulcers.
While Manuka honey is purported to have excellent healing abilities, all raw honey helps heal injuries and burns, and it is an ingredient in a host of skin care products. We recommend a great book on the subject: Honey, Gourmet Medicine. It is a slim text but well documented with research.
How do honeybees help us and the environment?
The list of ways honeybees are good for us cannot be contained well in a nutshell. They pollinate about 80% of the dollar value of our country's food production – without adequate numbers of hives to pollinate crops our food costs are going to rise dramatically. Honeybees, along with native pollinators, benefit the ecosystem by providing pollination not only to managed crops but wildflowers, flowering trees, shrubs, and native ground cover. The phrase "a rising tide lifts all boats" is relevant. By boosting the ecosystem, everything in it, from insects to mammals and all in-between, stand to benefit.
P.S. The Honey Exchange sells some delicious sauces and spreads, too!  
Shredded Honey Turkey Sliders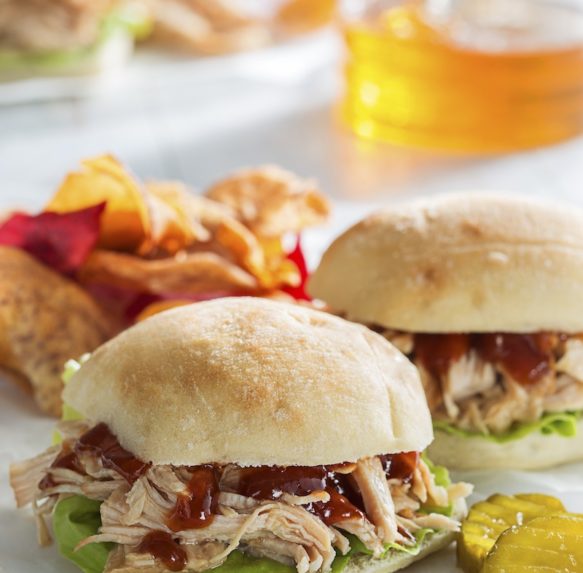 Source: National Honey Board
From the National Honey Board
Ingredients
1  turkey breast
1 package dry Italian Dressing
32 ounces low-sodium chicken broth
½ cup honey
Directions
Place ingredients in a slow cooker or crock pot.
Start on high for one hour.
Turn down to low and cook for at least another 6 to 8 hours.
Remove turkey from broth and shred.
Place in a shallow container with broth and cool quickly.
Place in refrigerator overnight for flavors to meld.
Place shredded turkey and broth back in crock pot or slow cooker and turn on low to reheat.
Serve on slider buns. Serve with lettuce leaves, tomato slices, and BBQ sauce or mayo are also great sides.
Makes 10 to 12 sliders.
What about you?
Do you cook with honey? Put it in your tea? Drizzle it on whatever? Lick the spoon (or your finger) clean?