I wanted to post a special recipe in honor of Mother's Day, so I reached out to my friend Jennifer Fitzpatrick. She's a wonderful mother (of three) and a doting grandmother (of three).
Here are some of her favorite family pictures.
When it came to the favorite recipe, Jennifer made a confession instead. She might be a great mother and grandmother but apparently, not a great cook!  The only recipe she could think of was for her husband's haddock chowder.
But with a little more thought, she realized she did possess some culinary skills after all.
I'm really not a cook, but I make some mean relish. How about that? It was my grandmother's recipe and here it is in her own writing from a million years ago!

By the way, her name was Bertha Fay but everyone called her Betty, except us kids. We called her Grammie!
A recipe handed down from a special grandmother. What could be more fitting for Mother's Day? Jennifer also told me a little bit about her grandmother.
Grammie was my mom Beverly's Mom. She was the mother of seven and a lighthouse keeper's wife living in remote lights like Great Point on Nantucket and Boston Head Light on Little Brewster Island. She was a strong and industrious woman with a kind heart and gentle demeanor. We all adored her! 
Here's a photo from the early 30s of her holding my mom.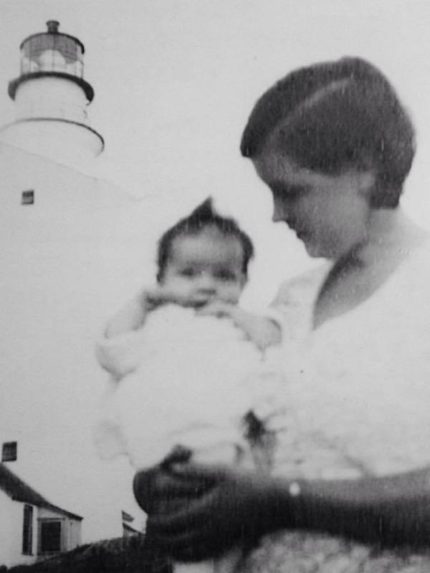 And this photo is the whole family in the early 40s at Great Point Light.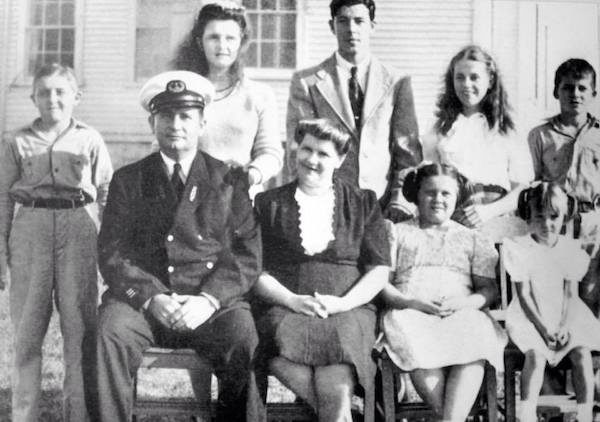 When Grammie and Grampy wrote letters to their children they wrote in poems and their children wrote poems back. And they often wrote poems just for fun and to pass the time while at the lights. As a family, we are now blessed with an abundant collection. I often wonder how Grammie could possibly have found time to write poetry while caring for seven kids. Imagine!

Sadly, Grammie had four of her children, including my mother, die before her, all tragically. She wrote this poem in their memory.
And in memory of Bertha Fay Haskins, known to Jennifer as Grammie, here is her recipe for Piccalilli Relish
Slice green tomatoes and onions in a large pan and sprinkle generously with salt so it's all through.
Let stand overnight.
Next morning drain the mixture off (it will make a brine)
I pour one cup of sugar to 3/4 cup vinegar over so it will nearly cover.
Put a package of whole pickling spices tied up loosely in a cloth and let all cook until tomatoes and onions seem done.
Jar hot. Throw spices away.
"I've added the following to Grammie's hot packing method. Boil pints of relish in a boiling water bath canner for 15 minutes, take out and listen to the seals popping! 
PS. I also have an easy and killer pickled beet recipe from the same Grammie file!"
Thank you, Jennifer, for the recipe and for the delightful story about your grandmother. Yes, send me the pickled beet recipe.
And Happy Mother's Day!