A recommendation for you: Next time you're in Montpelier, Vermont, you have to eat at Kismet (just down the street from the state capital.) We joined our daughter and son-in-law and granddaughter there for brunch this past weekend. Five stars delicious! A big thank you to my cousin Patti for her recommendation.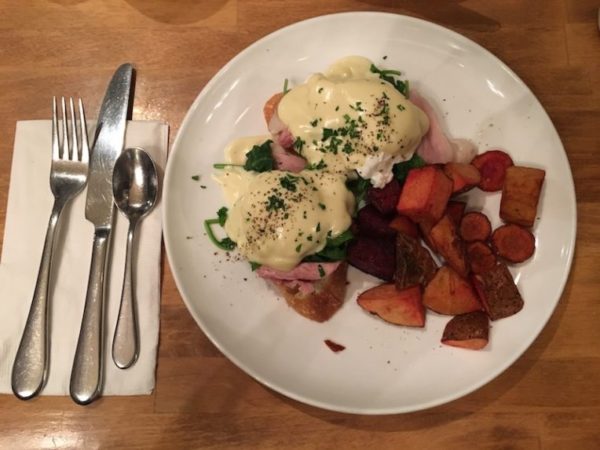 I had Florentine Benedict — toasted baguette, herbed cheese, wilted spinach, and ham. Two things that can ruin eggs benedict for me are wicked runny eggs and/or a separated, tasteless hollandaise sauce. None of that in this dish. It was perfect as were the root veggies.

My husband chose the Portuguese fish cakes, which he thought were delicious. The ingredients were poached cod with potato & herbs, poached eggs, and hollandaise.

No hollandaise for my vegan son-in-law, who ate a good to the last bite wok seared tofu scramble with roasted potatoes and carrots.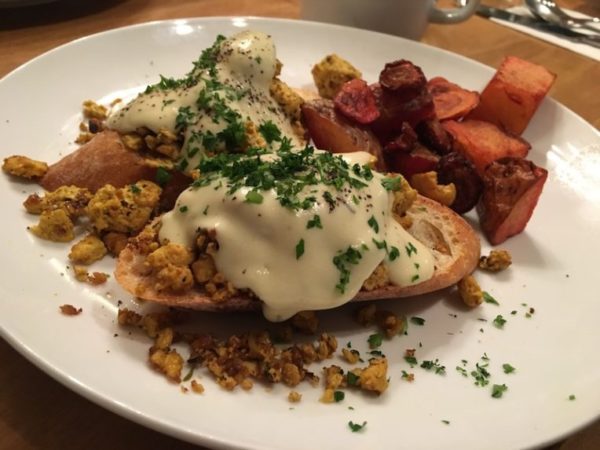 My daughter is also vegan, but she did want hollandaise sauce, so she got a vegan hollandaise. (I don't know the ingredients in Kismet's sauce, but I found a recipe online that you can try if you're interested.) Instead of poached eggs, she got scrambled tofu. I believe there's a slice of tomato just under the sauce, as well.
Here's what my daughter had to say about her experience:
I so appreciate it when restaurants are able to accommodate different types of eaters. That dish could have been served the traditional way with eggs and ham, but they had both tempeh and tofu as options for those wanting (or needing) to try something different. By making the hollandaise vegan, they open the dish to a much wider audience. This was only our second time there, but I'm already excited to return the next time we're in Montpelier!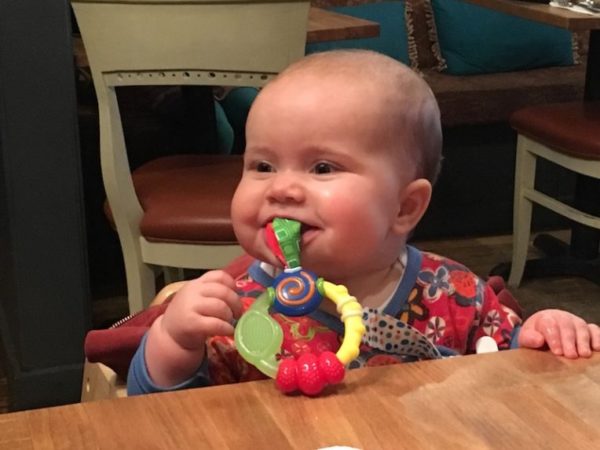 Speaking of options, although little cubes of tofu are my granddaughter's favorite finger food, this particular morning she opted to chew on her toy. Yum!
And … here is the recipe for Portuguese Baked Eggs. On Kismet's website, owner Crystal Maderia paid tribute to her parents for instilling a love of food and of life.
Lucky for me, my mother was a talented & inspired chef with Portuguese blood & an appetite for wine, fresh food & a good story. I was lucky too that my father gave me a love for the natural world, taught me how to plant and save seeds, how to sing to flowers, and appreciate a good rich & steaming hot compost pile. My parents were bohemians, they took risks and moved often, but we always ate well.
Portuguese Baked Eggs
6 Servings
INGREDIENTS
¼ cup olive oil
3 bell peppers, any color, thinly sliced
1 medium red onion, thinly sliced
2 beefsteak tomatoes, cut into wedges
8 garlic cloves, thinly sliced
1 jalapeño, with seeds, halved lengthwise
¼ cup fresh basil leaves
2 tablespoons fresh oregano leaves
1½ teaspoons chili powder
1 teaspoon paprika
Kosher salt and freshly ground black pepper
1 cup ricotta
6 large eggs
1 cup grated sharp white cheddar (about 4 oz.)
¼ cup grated Parmesan (about 1 oz.)
Toasted country-style bread (for serving)
PREPARATION
Heat oil in a large heavy pot over medium heat.
Add bell peppers and onion and cook, stirring occasionally, until softened and just beginning to brown, 10–12 minutes.
Add tomatoes, garlic, jalapeño, basil, oregano, chili powder, and paprika to pot.
Reduce heat to medium-low and continue to cook, stirring occasionally, until vegetables are very soft and liquid is thickened, 20–30 minutes; season with salt and pepper. Discard jalapeño.
Preheat oven to 400°.
Transfer bell pepper mixture to a 13×9" baking dish. Using the back of a spoon, make 6 evenly spaced divots in mixture. Spoon a dollop of ricotta into each divot, then crack 1 egg into each.
Top with cheddar and Parmesan; season with salt and pepper.
Bake, rotating dish halfway through, until Parmesan is melted and egg whites are almost set but yolks are still runny, 15–18 minutes.
Serve baked eggs with toast. (Yolks will continue to cook as dish sits, so serve right away if you prefer your eggs soft.)
DO AHEAD
Bell pepper mixture can be cooked 1 day ahead. Let cool; cover and chill.
Let me know if you try the recipe or the restaurant.