If you've never been to Duckfat, in Portland, Maine (home to tons of amazing restaurants) you're missing out big time.
Located on Middle Street, it bills itself as a little sandwich shop, but it's so much more. I go there to be comforted and I always am. It's usually lunchtime and I like to sit at the bar, not to have a drink but because I like to watch what's happening in the kitchen.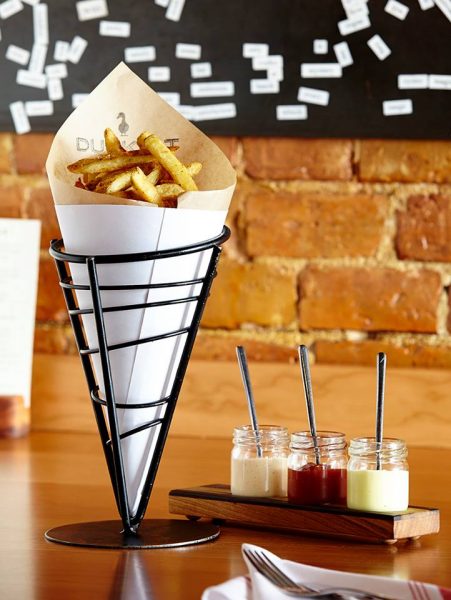 One time I was so comforted I practically rolled out the door. I ordered the fries — hand-cut Belgian fries, which you MUST try. You get a choice of five flavored mayos. I'm most apt to get the garlic mayo. Then I ordered a vanilla milkshake. Not just any milkshake. Check out the ingredients: Vanilla gelato with crème anglaise & fresh Tahitian vanilla bean.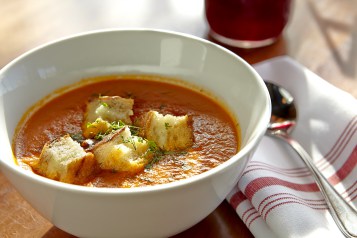 And on this particular afternoon, a bowl of tomato soup rolled me over the edge (in a good way.) Cream of tomato fennel with grilled cheese croutons. Comfort food and then some! Please don't lecture me about anything, especially calories. It's a once in a while indulgence.
Duckfat was kind enough to share a soup recipe with Catching Health. As you will see, in addition to being delicious, it's dairy-free.
Smoked Chicken, Barley & Winter Squash Soup 
Yield:  24 Quarts
Variations: Substitute smoked chicken with lamb or beef
Ingredients
Olive oil, to coat bottom of pan
4 Spanish onions, diced small
4 celery stalks, diced small
2 pounds carrots, quartered and sliced
1 TBS dried sage
2 TBS smoked paprika
½ bulb garlic, chopped
1 cup sherry
½ cup sherry vinegar
1 quart + 1 pint uncooked barley
6 pounds winter squash, peeled and cubed, ½"
20 quarts chicken stock
5 pounds smoked chicken, ½" dice
Instructions
In a large pot, combine barley and 4x water. Bring up to a boil, then lower heat to medium and cook until barley is soft (about 35 minutes).
Meanwhile, heat a large stainless pot over medium-low heat. Add olive oil to coat bottom and add onions, celery, carrots, sage, and garlic. Cook over medium-low heat until carrots are soft. Deglaze with wine and vinegar and cook until dry. Add stock, squash, and cook until soft. Add barley, season to taste with salt.
Add chicken, bring up again. Taste for seasoning.
Garnish with sage.