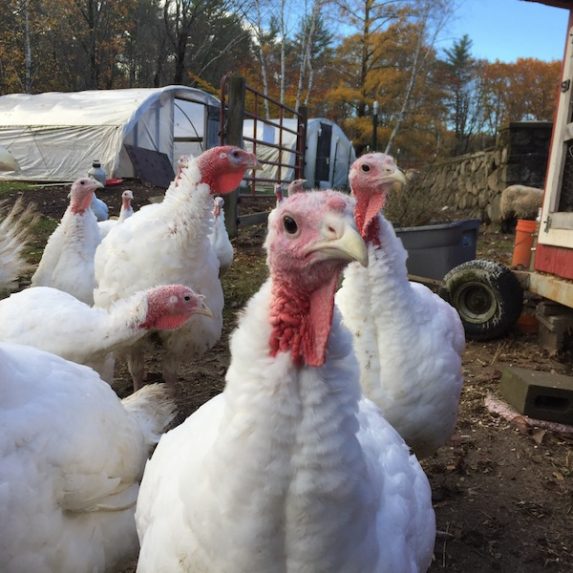 I learned something new recently. St. Joseph's College (SJC) in Standish, Maine (my alma mater) operates a farm and a market, and it raises turkeys and other animals!
Patricia Erikson, the college's Director of Communications & Government Relations, told me there is a LOT of change going on related to SJC and agritourism.
Simply put, agritourism is when you have a working farm or agricultural operation and you invite the public to visit and sometimes participate in some way — from taking a tour to helping with the harvest or "picking your own" to purchasing products at a farmer's market.

Here's what's happening at SJC right now.
On the east side of White Bridge Road, opposite the main entrance to the campus, the College operates Pearsons Town Farm, as well as the Stone Barn at Sebago Lake. The Stone Barn was built in the early 20th century by the Verrill family, whose estate spread over the entire campus. One section of the three section stone barn was renovated by the College in 2016 to serve as an event center. The other two sections currently house sheep, goats, chickens, turkeys, and llamas. The College has operated a farm/market garden on the property since 2009 with about 1.5 acres in production and there is a 9-acre livestock pasture.
The college is currently selling turkeys, which are free range and supplemented with organic grain, to the public and also serving them at a community dinner. If you live in the neighborhood and want to see if there are any turkeys left, you can send the farm an email.
They're also baking hundreds and hundreds of pies for Thanksgiving baskets that are donated to families in need.
In the spirit of Thanksgiving, Patricia offered up a couple of recipes for the Catching Health blog. One is for an apple pie and the other for turkey brine.
Brining a turkey is supposed to make it moister — fresh turkeys, not frozen ones. Because it requires salt, I checked in with my go-to dietitian Kitty Broihier about any potential health issues. Here's what she had to say:
It does add sodium certainly, however that is not a health concern for everyone. It also varies as to how much salt is added to the brine, of course.

Frozen poultry almost always contains added sodium solutions — you have to read the label. If it does, additional brining wouldn't be a good idea, though seasoning the skin with a mixture of spices and herbs would help with flavor.
If you'd like to try brining a turkey, the recipe is below. Underneath it is a recipe for good old fashioned apple pie. Thank you, St. Joseph's College, for the recipe. I'll be back for more recipes!
Turkey Brine recipe
1

cup

kosher salt to 1 cup water

1

bay leaf per cup of salt and water
The water has to be boiled to let the salt dissolve and then chilled before the turkey goes in. (A quick method would be to use less water and add ice to chill.)

The turkey in the brine will need to be refrigerated or, in cold weather, set outside overnight.

Takes 12 to 20 hours to brine

Apple Pie recipe
Pie Crust (makes one 9- or 10-inch double crust)
2 1/2

cups

all-purpose flour

1 1/4

tsp

salt

3/4

cup

chilled vegetable shortening

3

TBS

cold unsalted butter

6

TBS

ICE water
Sift together the flour and salt.

Combine the vegetable shortening and butter.

Cut half of the shortening mixture into the flour mixture with a pastry blender until it has the consistency of cornmeal. Cut the remaining half into the dough until it is pea-sized.

Sprinkle the dough with 6 TBS ice water. Blend the water gently into the dough with your hands until it just holds together. Do not over mix. If necessary, add 1 tsp to 1 TBS ice water to hold the ingredients together.

Divide dough in half, shape each into a disk, wrap in plastic until ready to use. When ready, roll out one-half for the bottom crust and the other half for the top crust. Line the bottom of a 9-inch pie pan. Preheat oven to 425° F. Then start peeling, coring and slicing your apples!
Ingredients
3/4

cup

sugar

2 to 3

TBS

all-purpose flour

1

TBS

lemon juice

1/2

tsp

ground cinnamon

1/8

tsp

salt

2 1/2

pounds (5 or 6 large)

apples

peeled, cored and slices
Instructions
Combine apples in a bowl with other ingredients. Let stand for 15 minutes stirring several times so that the apples soften slightly.

Pour the filling into the bottom crust and gently level.

Dot the top with 2 TBS unsalted butter, cut into small pieces.

Cover the pie with the upper crust and seal the edges by pinching the dough or crimping with a fork. Cut slits in the top of the pie to vent the steam. Sprinkle with 2 tsp sugar and 1/8 tsp cinnamon.

Bake for 30 minutes. Then reduce temperature to 350° F and bake until the fruit feels just tender when a knife is poked through a steam vent and juices begin to bubble. Cool completely on a rack three to four hours. Pie can be kept up to three days at room temperature.
Do you have a favorite Thanksgiving recipe you'd like to share with us? Use the comment box below or send me an email.
Happy Thanksgiving!