I don't stray that far away from home these days, but when I do, my first thought is Don't forget your mask, Diane. I have a small collection now and I'm likely to get a few more. It's a hassle sometimes and I don't enjoy wearing one, but I do it anyway — for me and anyone around me.
A friend asked me the other day if I'd write a blog post with simple, straightforward guidance on how to properly use and take care of face masks. I said sure and when I began researching, realized there were some things I was not doing right or not doing at all. Here's what I learned from my research with some input from Dr. Dora Anne Mills, Chief Health Improvement Officer at MaineHealth. She reviewed the post for accuracy and added some of her own information
Why mask?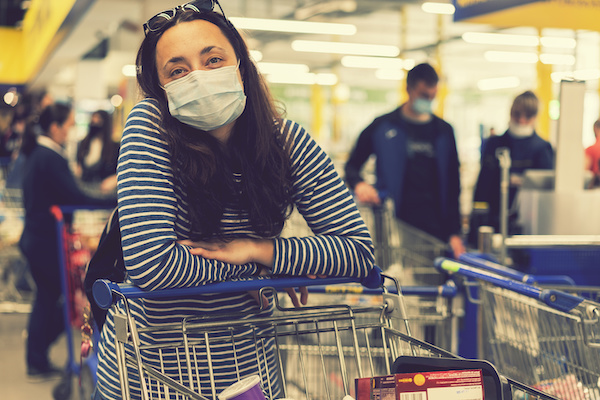 Why mask? Simple. To limit the spread of germs, including the coronavirus that causes COVID-19. It's not foolproof and it's not the only protective measure you should be using, but says Dr. Mills, "evidence is mounting that it is the single most important step we can take."
When you wear it properly, a mask reduces the number of germs you release and protects others. It may offer some protection for you, as well. But no matter how well your mask filters out harmful particles, to reduce the risk of COVID-19 spreading you also need to:
physical distance – i.e. keep 6 feet away from those outside of your quarantine (household) group
wash your hands
clean and disinfect frequently touched surfaces.
It basically comes down to the 3 Ws, says Dr. Mills.
Wear a mask;
Watch your distance;
Wash your hands and frequently touched surfaces.
However, there are some instances when wearing a mask is not advisable:
You have trouble breathing
The person is unconscious or unable to remove the mask without help
If a child is under 2 years of age.
For people in one of these groups, other measures such as quarantining with caregivers and physical distancing from others should be taken to the extent that is practicable.

For children aged 2 and older, the American Academy of Pediatrics has some tips for helping them wear a mask.

Dora Anne Mills, MD, MPH, FAAP
What kind of mask?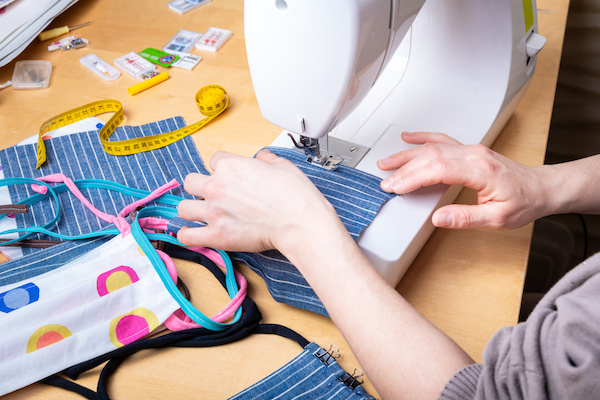 Lots of people are making/wearing homemade masks. Research shows that the most effective ones are made with good quality tightly woven fabric. Two to three layers of fabric such as quilting cotton is a good choice. One layer of fabric is not enough. You want to make sure it fits your face well and that there's a good seal around the edges. A surgical mask is also a good choice although it's also helpful to make sure healthcare providers have sufficient supplies.
Here's how you want your mask to fit:
It covers your nose and your mouth (yes, your nose, too).
It stays secure across the bridge of your nose and under your chin.
It's snug but not uncomfortably tight.
Some people like wearing a bandana, but according to research, they aren't as effective as a mask, even if you fold it over a few times.
An N-95 respirator provides a close fit and a good seal, but the Centers for Disease Control and Prevention (CDC) does not recommend them for the general public.
Those are critical supplies that must continue to be reserved for health care workers and other medical first responders, as recommended by current CDC guidance.

CDC
You may have also seen or heard about masks with vents or exhalation valves. Don't use them, says Dr. Mills. They can allow unfiltered exhaled air to escape so they do not offer the protection that fabric face coverings are meant to provide.
Want to buy a Maine-made mask?
Dr. Mills shared her list of Maine mask makers. She has purchased from several of them — loves the different styles and enjoys matching them with her outfits.
Putting in on, taking it off
Wearing a mask can take some getting used to. The first time I wore one, I wished I had taken the time to practice at home. My glasses fogged up, I kept touching the outside of the mask to make sure it was snug, I felt irritated when someone said they couldn't understand what I was saying because my voice was muffled, my nose itched, my upper lip got moist, and my throat was dry, but I wasn't sure how to handle taking a sip of water. I wanted to race to the safety of my car to whip it off my face, drench my hands in sanitizer and turn on the radio full blast so I could momentarily tune out this new reality.
Rant over.
Now, putting on a mask is almost second nature. It is what it is and I will do whatever I can to keep us safe and well.
Putting it on
Here's how we should be putting on a mask:
Wash or sanitize your hands.
Pick up the mask by its ties or loops and inspect for rips and tears or dirty places. You don't want to wear a dirty or wet mask.
If it passes your inspection put it over your mouth and nose and if it has loops, put them over your ears.
If it has ties, tie the top ones around the crown of your head and then the bottom ones at the nape of your neck.
If it has a stiff edge, pinch it to the shape of your nose.
Adjust to make sure it fits snugly with no gaps.
Make sure it covers your nose, mouth, and chin. If it isn't a good fit, maybe you need another size or style.
Do not touch the outside of your mask again while you're wearing it. If you do, immediately wash or sanitize your hands.
Try not to reach under the mask to scratch an itch. If you do, immediately wash or sanitize your hands.
Taking it off
Don't remove it if there is anyone within three feet of you.
Wash or sanitize your hands and try not to touch the outside of the mask or your face, especially your eyes, nose or mouth.
Remove the loops from your ears or if the mask has ties, untie the bottom ones first, and then the top ones.
If your mask has filters, remove and throw away.
Fold the outside corners of the mask and store it in a disposable or better yet, washable bag until it can be washed.
Don't just crumple it up and shove it into your pocket or purse or toss it somewhere.
Wash or sanitize your hands immediately after you remove your mask.
Keep your mask clean
The CDC recommends that we wash our mask after each use, in a machine or by hand. You can toss it into your washing machine with your regular laundry using standard (non-scented if sensitive to perfumes) laundry detergent and the warmest water your mask can handle.
If you wash it by hand, soak it in bleach for five minutes, rinse thoroughly and wash in hot soapy water, scrubbing for at least 20 seconds.
Tumble dry on high heat or hang the mask flat to dry, preferably in direct sunlight.
Think of your mask like underwear. Wear it for a day, then wash it. If it is soiled or wets through during the day, then take it off and put on a clean one.

Dr, Mills
Surgical masks are disposable, so are meant to be thrown away after a day's use or earlier if it becomes soiled.
Storing your mask
Store masks in a clean, cool, dry place. If you're going to carry it with you, put it in a washable bag or case. Make sure your mask is completely dry before you store it or you might create the perfect environment for mold to grow.
Some people like to hang their mask on a hook by the door so they can grab it on their way out.
Just keeps these tips in mind:
Store where mold and mildew can't grow.
Fold the mask so the inside is protected from potentially contaminated surfaces.
Don't use someone else's mask or share yours.
Consider having more than one mask

.
One more time
Wearing a mask will help reduce the risk of spreading COVID, but not if it's the only thing you do.
The best way to prevent getting sick is to avoid being exposed to the coronavirus that causes COVID-19. This is the current wisdom from the CDC about how it spreads.
The virus is thought to spread mainly from person-to-person.

Between people who are in close contact with one another (within about 6 feet).
Through respiratory droplets produced when an infected person coughs, sneezes, or talks.

These droplets can land in the mouths or noses of people who are nearby or possibly be inhaled into the lungs.

Some recent studies have suggested that COVID-19 may be spread by people who are not showing symptoms.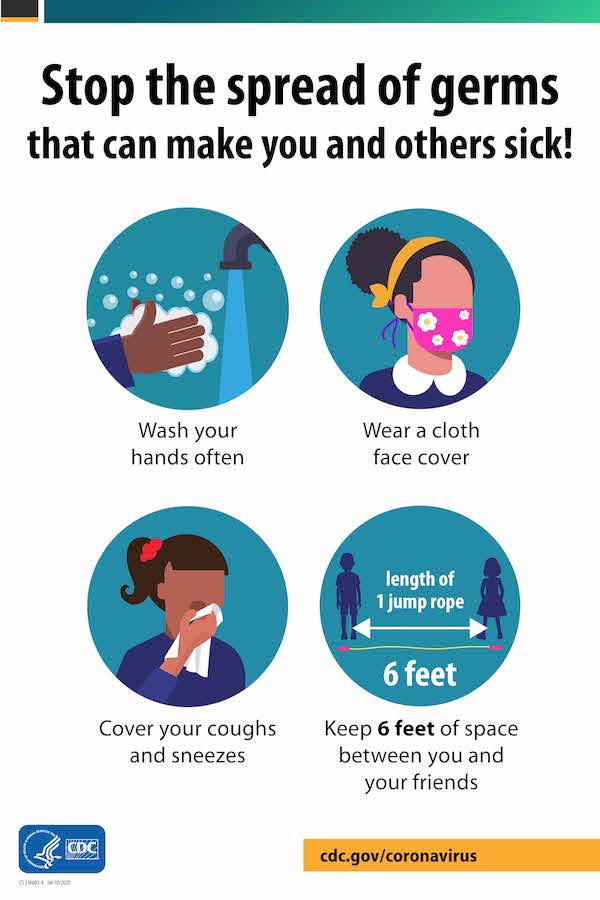 This is what the CDC says you and I should be doing to help prevent the spread of COVID-19;
Clean your hands often, either with soap and water for 20 seconds or a hand sanitizer that contains at least 60% alcohol.
Avoid close contact with people who are sick.
Put distance between yourself and other people (at least 6 feet).
Cover your mouth and nose with a cloth face cover when around others. Cloth face coverings may help prevent people who have COVID-19 from spreading the virus to others.
Wear a cloth face cover in public settings and when around people outside of your household, especially when other social distancing measures are difficult to maintain.
Cover your cough or sneeze with a tissue, then throw the tissue in the trash.
Clean and disinfect frequently touched objects and surfaces daily.
A lot of information to digest, but so important, I think. What I learned from researching and writing this post it that it's not ok to just toss my mask in the passenger seat of my car when I get home. Instead, it's going into the wash.
We're all learning – learning about this new virus and pandemic, learning how to change and adapt, learning how to change again as we learn new information. It's a long and complicated journey. And even though we're not together with loved ones and our communities as we yearn for, it is by learning and adapting together and taking care of our overall health that we'll get through this.

Dr. Mills
Life is full of challenges these days, and really, rant aside, wearing a mask is the least difficult one. Daily meditation has been a huge help to me, so I'll pass some loving kindness your way: May you be happy. May you be well. May you be safe, May you be peaceful and at ease.
PS. May you wear a mask. May you practice physical distancing. May you wash your hands frequently and well.